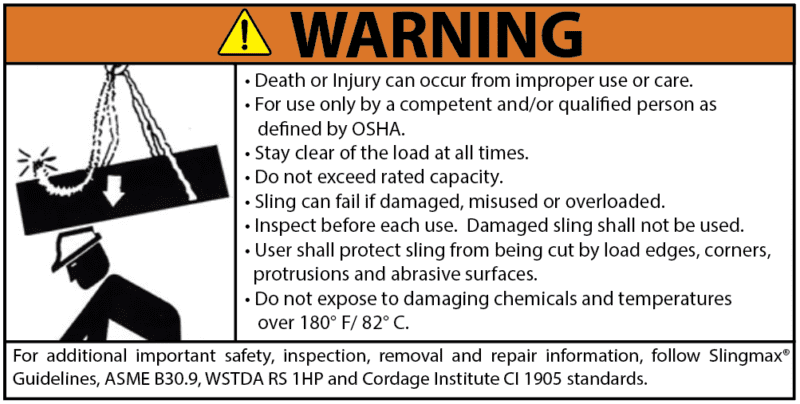 Twin-Path® Sling Warning & User Information
DEATH or INJURY can occur from improper use or care
Sling users shall be trained Do not use this sling unless you are properly trained.
Read and follow all instructions and warnings in this manual.
Check tag to confirm that sling is adequately rated for the load. See page 7 for chart.
Inspect sling for damage including:
Missing or unreadable Identification Tag
Ensure Check-Fast® External Warning Indicator or tell-tail indicators extend past the tag area of
each sling
If fiber optics are installed, ensure light transmits from end to end
Holes, tears, cuts, abrasive wear or snags
Ensure inner red cover is not visible
Acid or caustic burns
Exposed core yarn
Broken or damaged core yarn
Weld splatter or heat damage
Fittings that are pitted, corroded, cracked, bent, twisted, gouged or broken
Any other condition, including visible damage, that causes doubt as to the continued use of the sling
IF ANY OF THESE ARE DETECTED - SLING SHALL BE REMOVED FROM SERVICE IMMEDIATELY
Inspection Frequencies
All slings and rigging shall be inspected before each use.
Documented periodic inspections shall be completed at least annually or more frequently depending on service.
Refer to ASME B30.9 and / or contact manufacturer for recommendations for guidance on service intervals.
USE
Determine the weight and center of gravity of the load. For special lifts consult manufacturer for additional support and/or suggested products.
Check the sling tag to confirm that the sling is rated adequately for the load in the manner or hitches that it will be used. Refer to load angle, choke angle and other relevant charts.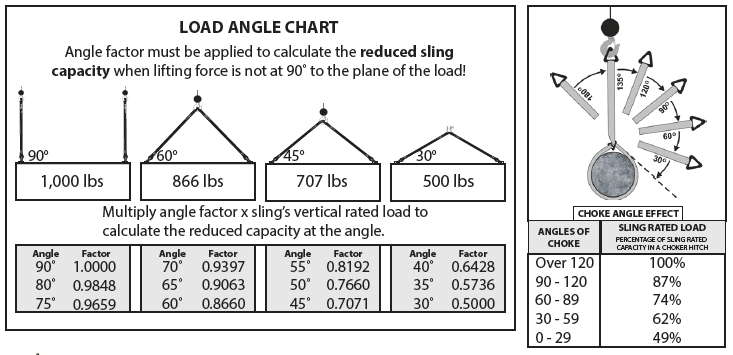 Use caution with lifts at angles less than 45° and do not make lifts with slings at less than 30°. When possible, use longer slings to minimize angular tension by increasing the angle. Severe angles can greatly reduce sling strength.
Check chemical resistance. Twin-Path® slings are generally resistant to common chemicals. Resistances in this chart are based on common concentrations at room temperature. Elevated concentrations and temperatures may affect chemical resistance. Contact Slingmax for more information when using in environments with elevated concentrations of chemicals and/or temperatures.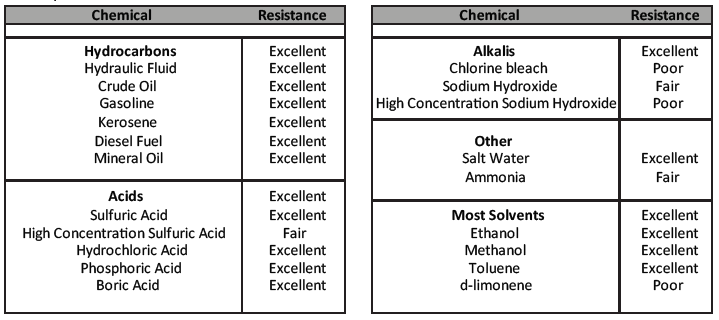 Some chemicals on this chart (including those rated as "Excellent") can damage the sling cover. Contact Slingmax® for more information.
4. Be sure warning indication devices are operable.
Do not drag sling over any surface.

Do not expose to damaging chemicals and/or temperatures over 180°F/82°C. Refer to manufacturer for additional information.
5. Select compatible fittings.
6. Center the sling and the load on the hardware being used. Avoid bunching the sling. Do not fold sling, rather, push together.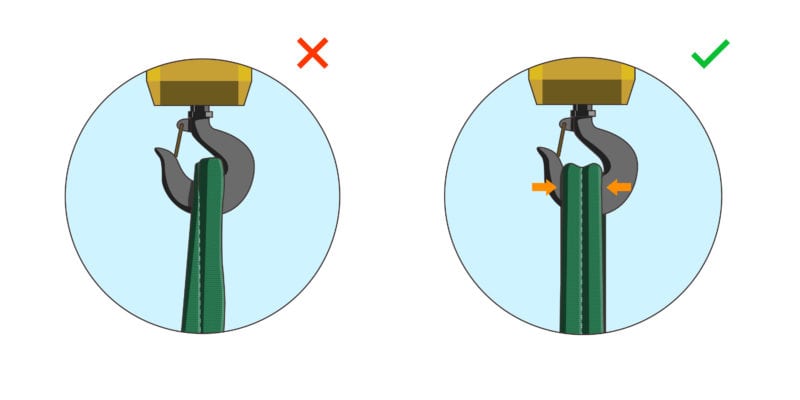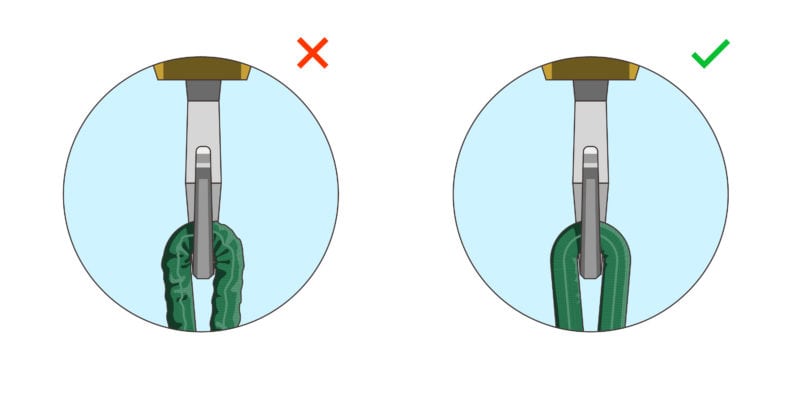 Do not place the identification tag on the bearing point. The Identification tag should be placed 18-24 inches away from the bearing point and facing away from the load.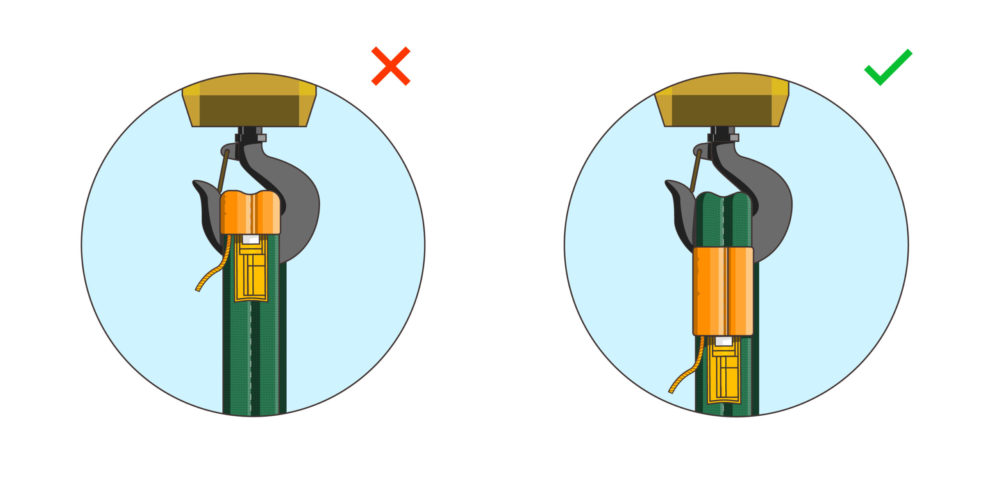 To avoid injury, it may be necessary to use multiple persons or an overhead lifting device to lift the slings and rigging.
7. Protect sling from abrasive surfaces, pinch hazards, and edges. Use abrasion protection for abrasive surfaces and cut protection for edges on the hardware or load.
8. Ensure sling paths are smooth in the hitch without any twisting or bunching.
Sling shall not be twisted, tied into knots, or joined by knotting.</span >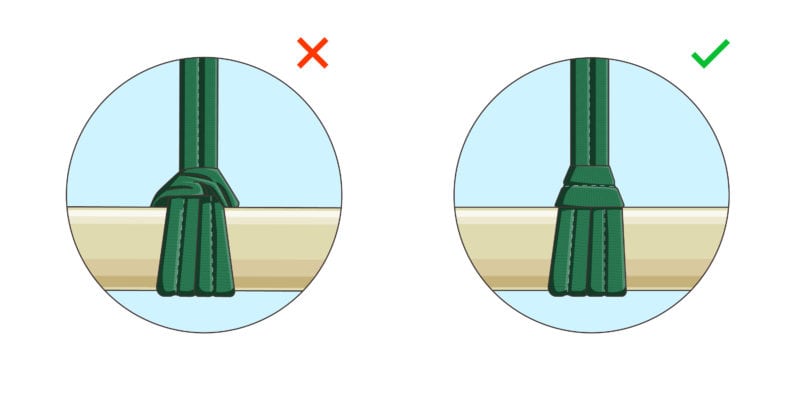 9. Equalize the slack by hand. Do not equalize the sling by using the crane or hoist to create tension.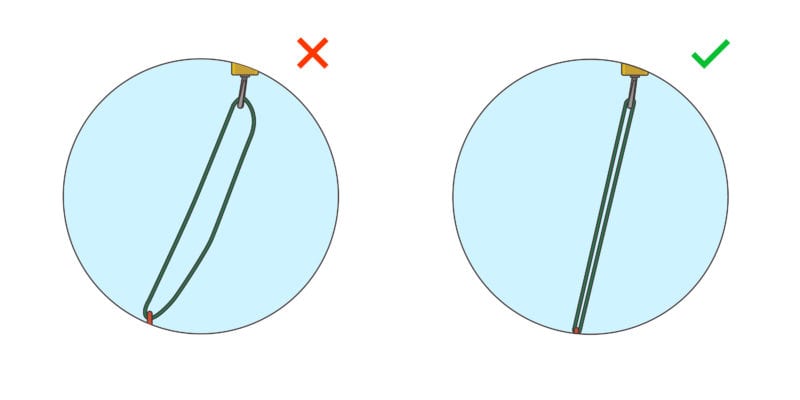 Keep hands clear when the sling is being tightened.</span >
10. Carefully lift the load.
Balance, maintain control and avoid sudden movement or jerking of the load.
Be alert for snagging of the load.
STAND CLEAR OF LOAD AT ALL TIMES.
DO NOT RIDE ON SLING OR LOAD.
STOP THE LIFT IMMEDIATELY if the load does not lift evenly, the external warning indication devices react, or any other observed failure of the rigging is detected.
CARE
Store slings to prevent contact with possible mechanical damage, corrosion, dust, grit and extreme temperatures.
To clean: use mild soap and water and allow to air dry before storing.
Do not machine wash or dry, to avoid damaging the sling.
REPAIR
Field repair is not permitted. Return sling to a Slingmax® Dealer for repairs. Click Here for list of authorized Slingmax® Dealers.
Attempting to repair sling can result in sling failure, load drop, and death or serious injury.
DISPOSAL
Before disposing of Twin-Path® slings, the slings shall be cut in half to prevent inadvertent use.
Waste must be disposed of in accordance with national and local environmental regulations.
CUT AND ABRASION PROTECTION
Slings in contact with edges, corners, protrusions, abrasive surfaces or connecting hardware shall be protected with a material of sufficient strength, thickness and construction to prevent damage. Cut protection shall be rated and labeled for its intended use.
Failure to use proper protection can result in sling failure, load drop, and death or serious injury.
Available Cut Protection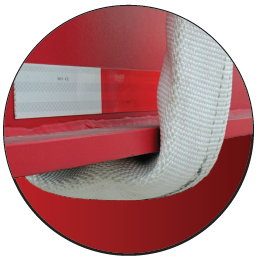 CornerMax® Sleeve is made from tough high
performance Fiber that is specifically woven to
provide cut protection for a variety of edges and
surfaces. CornerMax® Sleeves can be used in
many different angles and applications. Rated for
25,000 lbs per inch of sling width.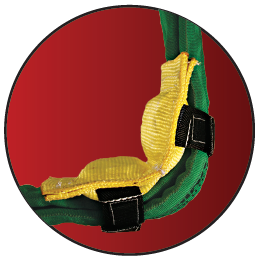 The CornerMax® Pad creates a "tunnel" of cut
protection which is known as the No Touch Zone.
The corner of the load does not come in contact
with the pad or the sling. The CornerMax® Pad is
specifically designed to be used in 90° angle
applications. Rated for 25,000 lbs per inch of sling
width.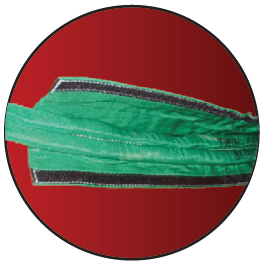 Synthetic Armor Pads protect slings from
abrasion damage that can be caused by contact
with rough surfaces such as concrete beams and
structures. They are also used to protect finished
or painted loads from marring. Synthetic Armor
can be made to fit any length or width sling.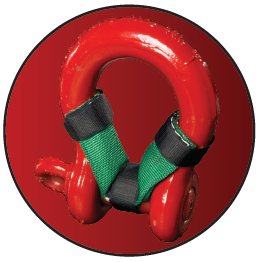 The pin area of a shackle can damage synthetic
slings. Placing synthetic slings on the pin should
be avoided. Shackles may have a sharp edge
where the pin goes through the shackle ear. If the
sling is rigged on this area, it could become
severely damaged. If you must rig on the pin,
protect your sling with a Shackle Pin Pad.
TRAINING & RESOURCES
Per ASME B30.9 & OSHA
Sling users shall be trained. Qualifying persons performing rigging functions shall meet the applicable criteria and shall, through education, training, experience, skill, and physical ability, as necessary, be competent and capable to perform the job. Rigging training is widely available through your local Slingmax® Dealer. For training information please contact your local Slingmax® Dealer or visit www.slingmax.com.
ASSOCIATIONS
For additional information on the safe use, inspection, and training requirements, please consult the standards and reference items below:
WSTDA-RS-HP1
ASME B30.9
CI 1905
OSHA 29 CFR, 1910.184
Slingmax Rigging Handbook
Slingmax Smartphone App