Heavy duty and repairable, chain is most commonly used in harsh rigging environments.  Steel Mills, construction, demolition, and manufacturing industries rely on chain assemblies to tackle the rigors of the job.  Extremely versatile, alloy chain slings can be configured with a wide variety of attachments and hardware.  Chain slings are assembled by I&I Sling in house to your specifications, rated, inspected and tested.   
Every chain sling is custom built to your specifications by experienced fabricators.  I&I Sling utilizes grade 100 (grade 80 for 1" and above) domestically produced chain for all of our overhead lifting chain slings.  Chain slings have a 4 to 1 design factor and are fully compliant with ASME B30.9 and OSHA standards. Before shipment, every I&I Sling chain sling is proof tested to twice the rated capacity and certified.  Chain sling assemblies are able to be constructed in matching sets or within +/- the length of a single chain link.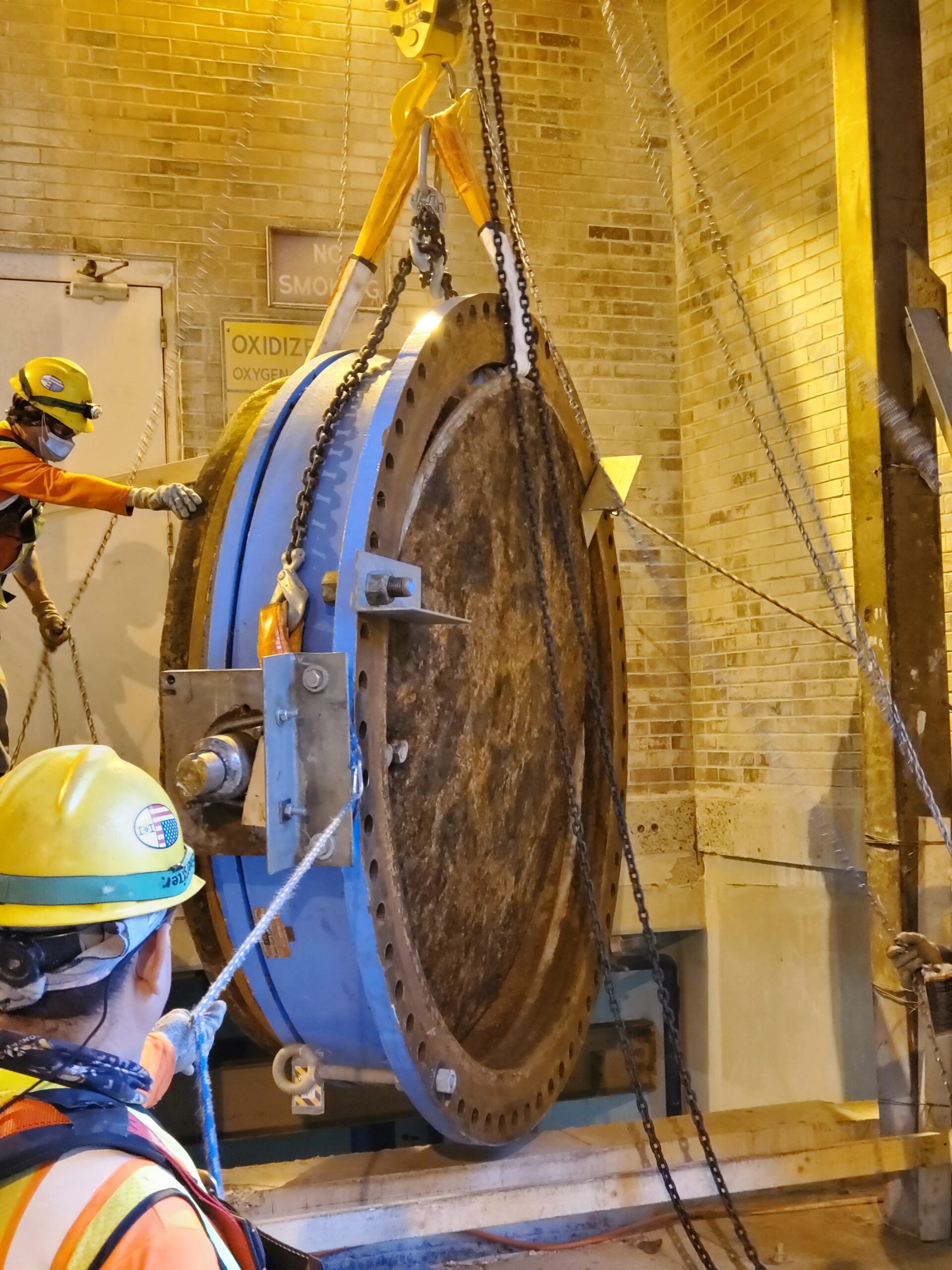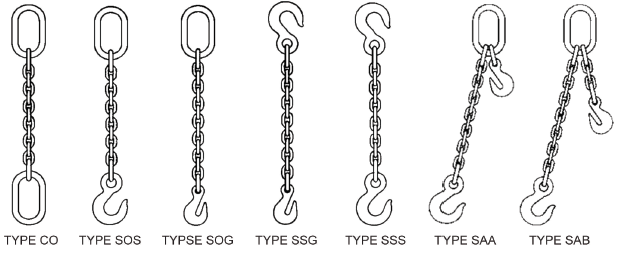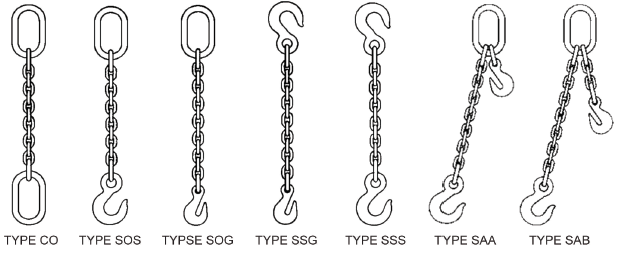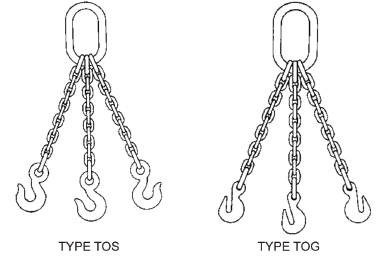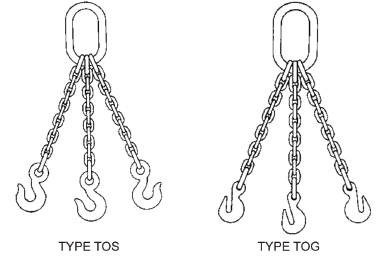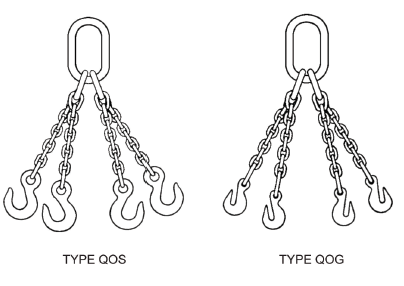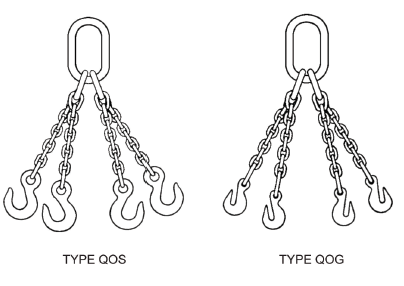 Wide Variety of Chain Attachments
Through trusted partnerships with quality rigging suppliers, I&I Sling has the capability to offer a wide variety of chain attachments to our customers.  We can use component parts from Crosby, Campbell, Gunnebo, Pewag, Rud and Peerless.  Self-locking hooks, clamps or any other type of rigging hardware can be added as a permanent part of your chain assembly.
Chain Slings can be utilized at up to 400°F/204°C with no reductions, making them ideal for high temperature environments.  Furthermore, chain slings can be used up to 1,000°F/538°C with reductions of their rated load.  See chart below for lifting chain rated load reductions above 400°F/204°C.  Permanent Reductions are applied for the remainder of the sling life.   Any future reductions are additionally applied to the sling. 
Temperature
Grade 80
Grade 100
(°F)
(°C)
Temporary
Reduction
Permanent
Reduction
Temporary
Reduction
Permanent
Reduction
Below 400
Below 204
None
None
None
None
400
204
10%
None
15%
None
401 to 500
205 to 260
15%
None
25%
5%
501 to 600
261 to 316
20%
5%
30%
15%
601 to 700
317 to 371
30%
10%
40%
20%
701 to 800
372 to 427
40%
15%
50%
25%
Above 800
Above 427
Not Recommended (Call)
One of the benefits of chain sling is the ability to add a chain shortener to your chain assembly. SAA, SAB, DAA and DAB configurations come with an additional leg of chain with a grab hook attached.  This allows the lifting leg to be shortened.  The Crosby Eliminator also accomplishes this goal by combining these legs into one.
RATED CAPACITY (WORKING LOAD LIMIT) FOR ALLOY CHAIN SLINGS
RATED CAPACITY (WORKING LOAD LIMIT), POUNDS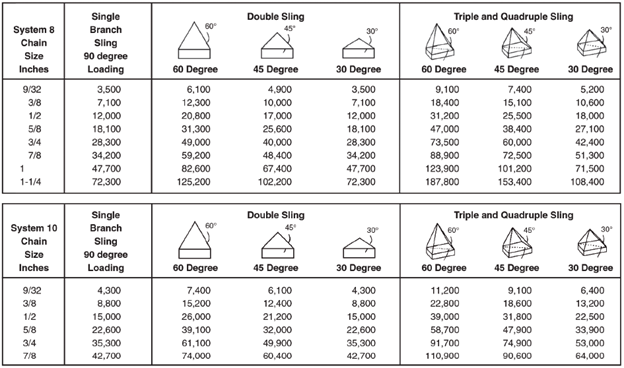 Rating of multi-leg slings adjusted for angle of loading between the inclined leg and the horizontal plane of the load. *Other grades of proof tested steel chain include Proof Coil, BBB Coil and Hi-Test chain. These grades are not recommended for overhead lifting and therefore are not covered by this code