SINGLE-PATH HIGH PERFORMANCE ROUNDSLINGS

Single-Path High Performance Roundsling (SPXCF)
The Slingmax Single-Path High Performance roundsling (SPXCF) is equipped with the patented  Check-Fast inspection system. These single path slings are available with rated capacities of up to 200,000 lbs. The SPXCF single path sling has a smaller footprint and can fit into tighter fittings compared to the TPXCF Twin-Path sling. It has a nominal width of 2.5 inches and only 6 inches at maximum capacity.  Single Path slings are widely used in the wind, construction, and manufacturing industries.








All of our high performance roundslings are fabricated with K-Spec® Core Yarn, which is a blend of high performance fibers proprietary to Slingmax Rigging Solutions.  K-Spec core yarn has been independently tested to meet the toughest industry standards including the rigorous test of over 50,000 cycles at 1.5 times capacity.  This inherently makes any sling fabricated with K-Spec core yarn more durable and long lasting than other available high performance slings.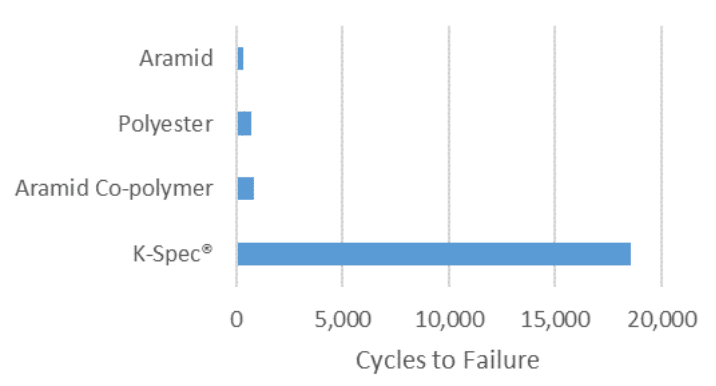 The standard equipped Covermax Cover, is the most abrasion resistant cover available from Slingmax.  Covermax Covers include a green outer layer and a red inner layer.  This provides an objective visual warning to identify when the cover is damaged and the sling needs to be removed from service. Slingmax's rifled cover technology is embedded into the design of this roundsling.  This gives the sling a 17% higher and more consistent breaking strength while allowing the sling to maintain its lightweight and narrow profile.
Check-Fast Inspection System
The Check-Fast Inspection system is an innovative overload warning system that enhances the safety of all Slingmax High Performance single path and Twin-Path roundslings by utilizing a simple "GO / NO-GO" device. Sling inspectors world-wide appreciate the simplicity of the Check-Fast Inspection System. If the External Warning Indicator (EWI) is not visible, it is evidence that the roundsling may have seen conditions it was not rated for. This indicates that the sling should be removed from service.