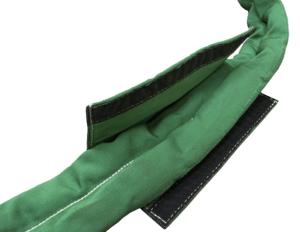 Abrasion Protection and Softeners
I&I Sling offers a wide variety of abrasion protection and softeners to meet your rigging needs.  These pads are designed to protect your sling from rough surfaces that can cause damage.  Abrasion Pads can also protect the load from being damaged by the sling.  These pads will NOT offer sufficient Cut Protection.
Synthetic Armor™ Pads are fabricated with Kevlar felt layered between Covermax cover material.  This protects synthetic slings from abrasion damage that can be caused by contact with rough surfaces such as concrete beams, steel and structures. Synthetic Armor wearpads are available in configurations that include sliding, removable, or it can be secured directly onto your synthetic sling.  Layers of polyester web or Syn-Glide™ can be  added to give the pad anti-friction properties when movement is expected during the lift.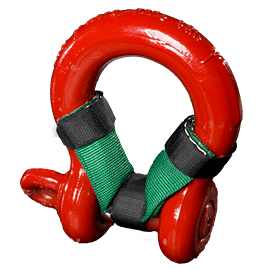 If it is necessary to rig on the pin area of the shackle - the shackle pin pad can help protect your sling.  Shackles can have a sharp edge where the pin goes through the shackle ear. If the sling is rigged on this area, it can become severely damaged. If you must rig on the pin, protect your sling with a Shackle Pin Pad. The Shackle Pin Pad is sized for the model of shackle and protects the sling along the entire pin.
Syn-Glide Film reduces cover friction by allowing the slings outer cover to glide over itself or a piece of hardware. Syn-Glide is a useful accessory for every rigger that works with Twin-Path® Slings. Syn-Glide allows the sling to take set without friction for lifts where the Covermax® cover comes in contact with itself or a piece of hardware. Syn-Glide is designed to eliminate the 'bite' of the cover in situations where the cover is resting on itself when the weight of a load is applied. If your job is tough on slings, syn-glide film is a recommended solution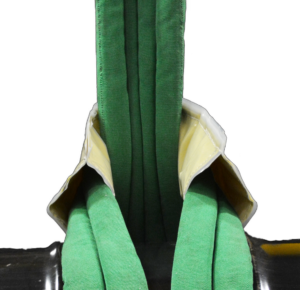 Other Materials Available:
Rubber
Polyester Web
Buffer Web
Seatbelt
High Temp
Polyester Felt
Warning:  DO NOT USE this Pad to protect sling from cutting on load edges, corners or protrusions. This pad WILL NOT adequately prevent damage or failure of sling if used for cut protection. Only Pads which are tested and rated for cut protection are to be used to protect sling from cutting. DEATH or INJURY can occur from improper use or maintenance. Sling users shall be trained.