Electric chain hoists are popular in utility, manufacturing and industrial environments.  Allowing you to lift heavy loads with ease. Harrington electric chain hoists are extremely durable and are certified and listed to UL 1340 hoist standard. The Harrington NER/ER Series of electric chain hoists include the latest technologies making these models absolutely the best electric chain hoists on the market today. External pins allow for quick change from hook to lug for trolley mount configurations on most models.
Push trolley mount and MR motorized trolley mount hoists are configured as perpendicular to the beam on single fall models. Parallel mount is available as an option. Harrington Electric chain hoist models include corrosion and wear resistant high-strength grade 80 chain that is certified to DIN standards. Our selection of electric hoist models all include notched hook and latch systems that provide positive closing and improves wear and tear on the unit. This mixed with a proprietary heat treatment process during chain manufacturing reduces chain vibration and increases the overall life of the chain used.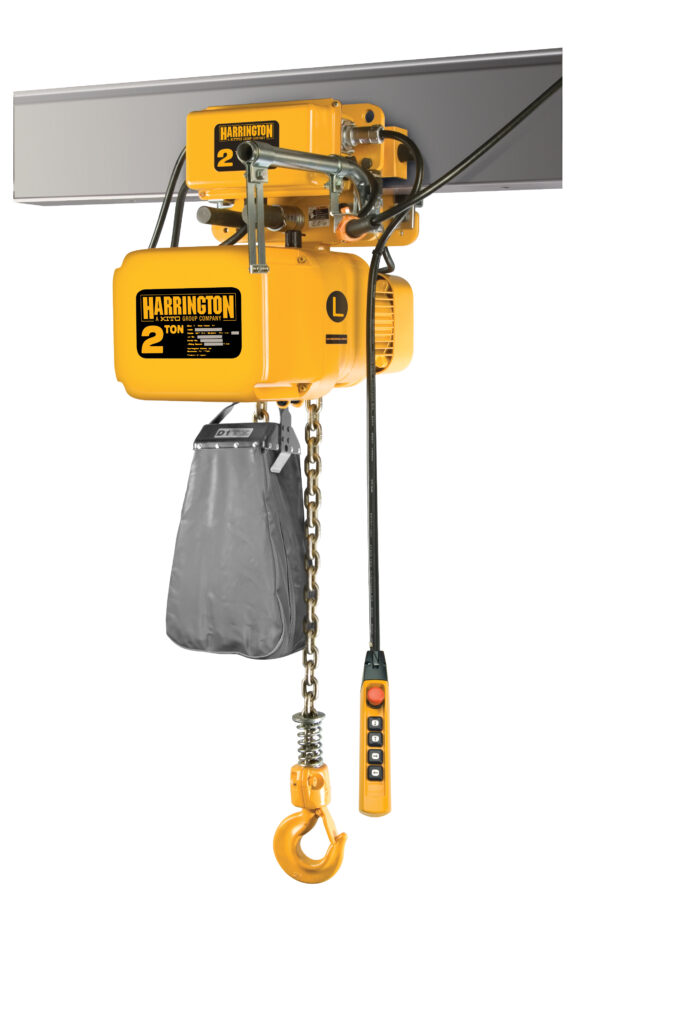 Features and Benefits:
UL® Listed:
Certified and listed to UL 1340

High Air Flow:


Cooler moto and brake attributed to an engineered moto fin, fan blade and fan cover design.

Contactors:


Mechanically interlocked, heavy-duty contactors on single speed models

Easy Access Suspension:


External pins allow for quick change from hook to lug for trolley mount configurations on most models.

Unique Load Sheave:


Increased number of pockets reduce chain vibration and increased life. 5 pockets standard; 6 pockets on smaller body hoists.

High Strength, Corrosion and Wear Resistant Load Chain:


Grade 80, super strength, nickel-plated load chain, certified to DIN standards, uses unique technology to greatly increase resistance to fatigue and wear.

Green Initiative:


Built smarter wihout the use of harmful materials. Environmentally friendly. RoHS complaint.

Friction Clutch and Load Brake:


Friction clutch is standard on NER/ER models and fraction clutch with mechanical load brake standard on ER models. Carbon friction material provides consistent performance over a wide temperature range.

Dual Speed VFD:


Under-the-cover VFD Standard for dual speed hoists. Speed ratio is 6:1 with adjustability up to 12:1.

Notched Hook and Latch System:


Provides positive closing and improves resistance against lateral forces

Standard Count Hour Meter:


Records and displays the number of lowering starts and hoist on time which is valuable for preventative maintenance. Integral to VFD on dual speed models.

"The Guardian":


Smart Break Technology: A current driven electromagnetic brake does not release unless the motor is energized. 10-year hoist brake warranty

Limit Switches:


Low-Profile upper and lower limit switches are standard.

Extended Chain Life:


Decreased chain wear as a result of revolutionary heat treatment process, improved material and chain size.

Pendant Controls:


Ergonomic design for operator comfort. Red button emergency stop is standard on all 2-button dual speed pendants.