LIFTING SLING REPAIR & RIGGING EQUIPMENT CERTIFICATIONS
Qualified Certifications for Safety and Compliance
Professional rigging gear certification is critical to safety and compliance in the crane and heavy lift industry. I&I Sling's rigging experts maintain an extensive library of testing and technical documents. We can recertify everything from a few shackles or slings to a pallet full of various rigging devices. Testing data is documented, stored and retrievable  to provide you confidence and peace of mind.
Complete Testing and Certification
Drop off or ship your rigging gear to one of our six branches and we can handle the inspection, testing, and certification of your rigging equipment. All certifications are performed by experienced personnel following ASME B30 and OSHA specifications.
Along with visual inspection, non-destructive testing (NDT), and load testing, our experts are prepared to certify your lifting gear and rigging, including synthetic, wire rope, and chain slings.
Our trained professionals operate horizontal proof test machines, vertical test beds, and various portable load links to meet rigorous certification regulations. Our customers have come to rely on the impressive horizontal proof test capabilities of our facilities: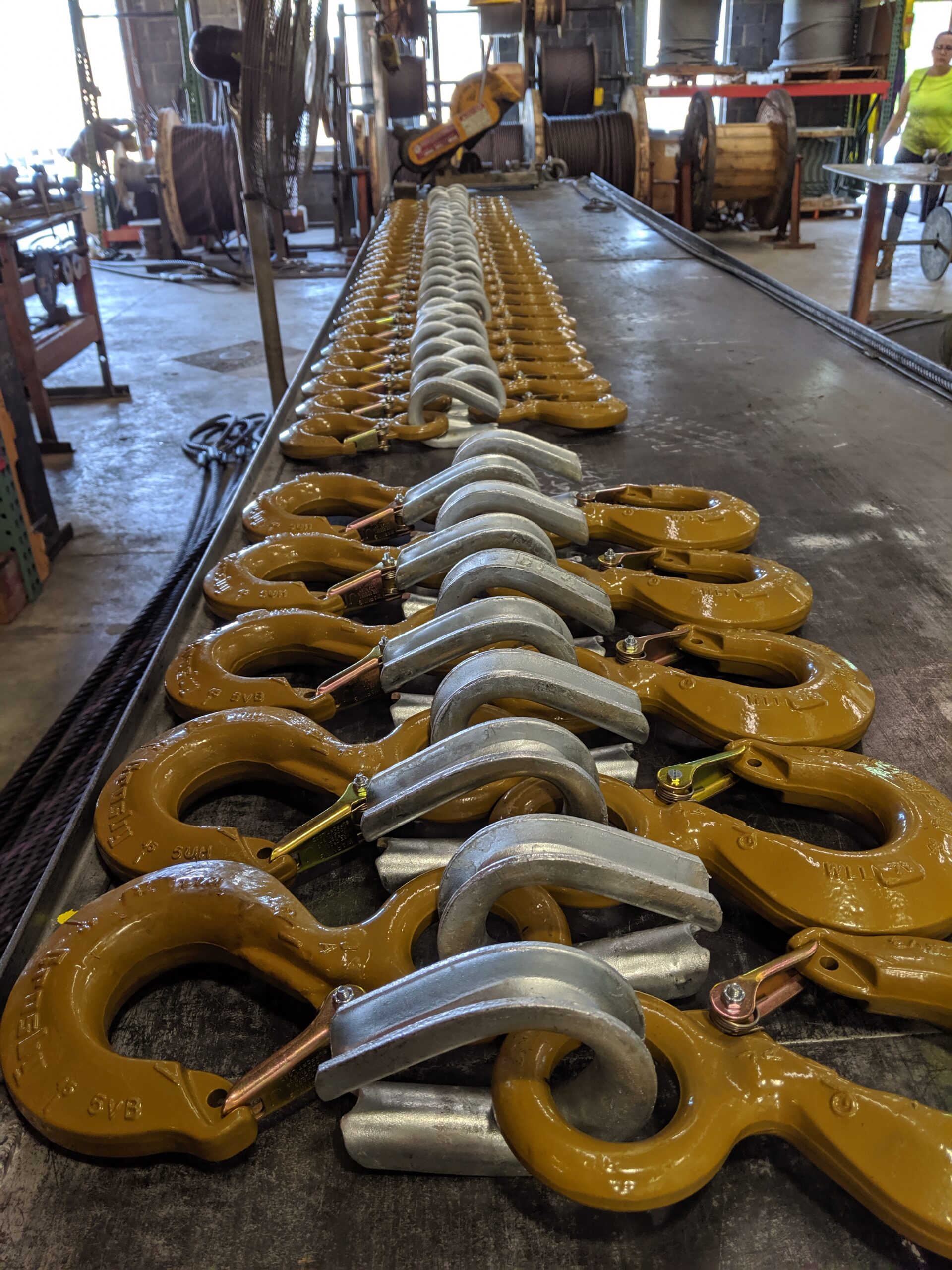 | I & I Sling Facility | Proof Test Capability | Proof Test Bed Length |
| --- | --- | --- |
| FL - Palm Coast | 400,000 lbs | 35' |
| MA - Norwood | 600,000 lbs | 63' |
| NC - Greensboro | 350,000 lbs | 53' |
| PA - Aston | 1,200,000 lbs | 120' |
| TN - Knoxville | 350,000 lbs | 86' |
| VA - Lorton | 350,000 lbs | 45' |
Convenient Repair and Recertification
After inspecting and testing your items for certification, we provide a thorough report and all certification documents. All "passed" items will be tagged and returned with a proof test certificate, and any "failed" items can be repaired or quoted a replacement price at your request.
I&I Sling's repair technicians diligently adhere to the highest standards to restore synthetic, wire rope, and chain slings, as well as all hardware and accessories. Our repair and recertification services extend the service life of your lifting and rigging equipment, and give you the quality and traceability you need.
Combined with our product distribution, custom fabrication, training, testing, and inspection capabilities, our equipment certification services make I&I Sling a one-stop-shop for the crane and heavy lift industry. Reach out to your local I&I Sling branch location today to partner with the leading provider of rigging solutions.
When you're ready to certify or recertify the critical equipment you count on, our NCCCO-certified and rigger-trained I&I Product Advisors are here to help. We pride ourselves on providing our customers 24/7 personalized service and support.