Synthetic Web Sling Inspections
What to look for when Inspecting Synthetic Web Slings
Typically fabricated from polyester or nylon webbing material, synthetic web slings are one of the most common types of synthetic lifting slings used in construction, manufacturing, and light material handling.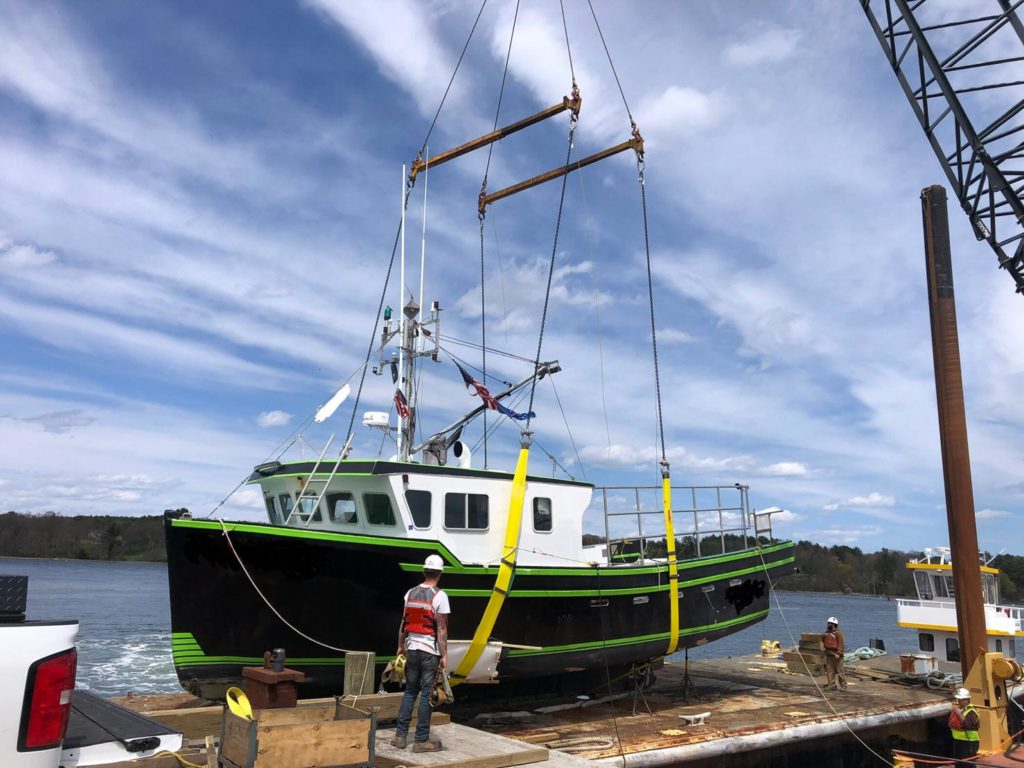 Synthetic web slings are an inexpensive option that are lightweight and versatile.
Web slings are extremely common on job sites and offer some distinct advantages over other available types of rigging such as chain slings or wire rope slings. Some of these advantages are:
Soft material construction that does not damage the load while in use

Customizable web sling width, length and available hardware fittings

Light weight material provides less risk of injury to riggers

Inexpensive 
When using synthetic web slings it is important to identify what material the slings are made of – Nylon or Polyester. This is best achieved by reading the tag, but another way of identifying the material is by looking at the web material.  Polyester usually has a blue or black line down the middle whereas Nylon does not. Nylon and Polyester web slings should never be used together at the same time. This is because nylon stretches more than polyester, which when used together may cause the nylon to see more share of the load. Other differences are polyester web slings have no loss of strength in water, and levels off with UV degradation compared to nylon.
Web slings are an inexpensive lifting sling option and therefore are treated as such. Web slings are also one the easiest types of rigging to damage. Riggers in the field often abuse web slings because they are seen as an easily replaceable item. This means that nylon and polyester web slings can be damaged in the field, and they should be regularly inspected. It is critical to follow proper Use & Care Standards for any slings and lifting equipment.
It is important to annually inspect all rigging in your toolbox to ensure that every sling and piece of hardware is still safe and suitable for use overhead lifting. 
Rejection Criteria for Synthetic Web Slings
Below is a list of common reasons your sling may need to be removed from service.  However if the sling exhibits any condition whether visible or not that may have caused damage to the sling, the sling should be removed from service.
Illegible or Missing Sling Identification
One commonality that we have identified on jobsite inspections is that there are typically web slings from multiple manufacturers on a single jobsite. This within itself is not a problem, however we have found that there are large discrepancies between the quality of tags from some manufacturing companies. As per ASME B30.9 all slings must have a tag with identifying manufacturers information, however we have found that in the field, the quality and legibility of some tags can vary greatly. Additionally, we find that some web slings are privately labeled and do not have any information about the sling manufacturer. Although this might seem like a good idea at first, the reality is that this leaves whoever privately labeled that sling holding all of the liability in the case of an accident.
---
Cuts, punctures, tears, snags and abrasion
It is important to inspect your slings for any damage.  Even the slightest damage from a cut, puncture, tear or even abrasion can severely reduce the capacity of the sling and result in sling failure during a lift.  
---
Evidence of melting, burns, charring, discoloration, stiffness or brittle
Environmental Factors can also reduce the overall breaking strength of a sling.  Discoloration, stiff areas, melting or charring of the material can occur from chemical damage, heat or ultraviolet light.  Once the condition of the material is no longer soft and like new in appearance it should be removed from service and replaced.
---
Knots and broken or worn stitching
Misuse can cause conditions to the slings that will be noticeable during an inspection.  Knots should never be used to shorten or tie together slings and once used with a knot, the sling can be irrevocably damaged.  Missing stitching and permanent elongation can occur when a sling has been overloaded.  If knots or broken or worn stitching are present, the sling should be removed from service.  
Any hardware or fitting should also be inspected to ensure that they are in good condition and are not bent, twisted, broken, worn, pitted, corroded, cracked or gouged.  Hooks should be inspected per ASME B30.10 and other hardware should be inspected in accordance with ASME B30.26.

Sling Selection
Proper sling selection is the first step to ensure that your rigging will not get damaged prematurely.  This includes understanding the hitches the sling will be used in and if hardware or fittings should be used. Sling protection can be used to protect the sling from abrasion damage and edges and help prevent damage to your sling.  I&I Sling has NCCCO certified product advisors available to assist with your lift plans.