Crosby® Bolt Type Shackles G-2130A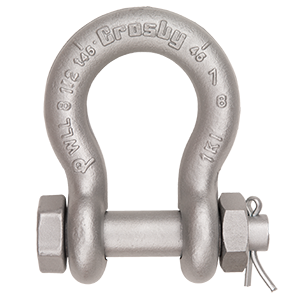 Crosby® Bolt Type Shackles G-2130A
Crosby Bolt Type Shackles with thin head bolt – nut with cotter pin. Meets the performance requirements of Federal Specification R-C-271G, Type IVA, Grade B, Class 3, except for those provisions required of the contractor. For additional information, see page 452.
Capacities 2 to 17 metric tons.
Meets or exceeds all requirements of Grade 8 shackles.
Working Load Limit permanently shown on every Crosby Shackle.
Forged Alloy Steel – Quenched and Tempered, with bow and bolt.
Hot Dip galvanized.
Shackles can be RFID EQUIPPED.
Meets or exceeds all requirements of ASME B30.26 including identification, ductility, design factor, proof load and temperature requirements. Importantly, G-2130A meet other critical performance requirements including impact properties and material traceability, not addressed by ASME B30.26.
Shackles can be furnished proof tested with certificates to designated standards, such as ABS, DNV, Lloyds, or other certification when requested at time of order.
Type Approval and certification in accordance with DNV 2.7-1 Offshore Containers.
Shackles are Quenched and Tempered and meet DNV impact requirements of 42 Joules (31 ft• Ibf) at -40° C (-40° F).