Innovating Construction Safety While Rebuilding a Landmark
South Capitol Bridgebuilders Bring Breakthrough Rigging Technology to the New Frederick Douglass Memorial Bridge
The new Frederick Douglass Memorial bridge is the largest infrastructure project in the history of Washington D.C., promising a modern crossing to connect vital neighborhoods on either side of the Anacostia River. Slated for completion in early 2022, the new 1,600-foot Arch bridge will replace its 70 year-old predecessor in order to increase safety and spur economic growth for all surrounding areas.
The $480 million build consists of six traffic lanes, bicycle and pedestrian paths, two piers that will appear to float on the water, and an esplanade and community park along the river. The project also includes two new traffic ovals on either side of the river and reconstruction of the busy interchange of Suitland Parkway and Interstate 295.
Crowning it all are three parallel sets of 168-foot-tall white steel arches visible across the city. Residents and visitors to the nation's capital are already in awe of this historic landmark-in-progress and the impressive architecture designed and engineered by South Capitol Bridgebuilders.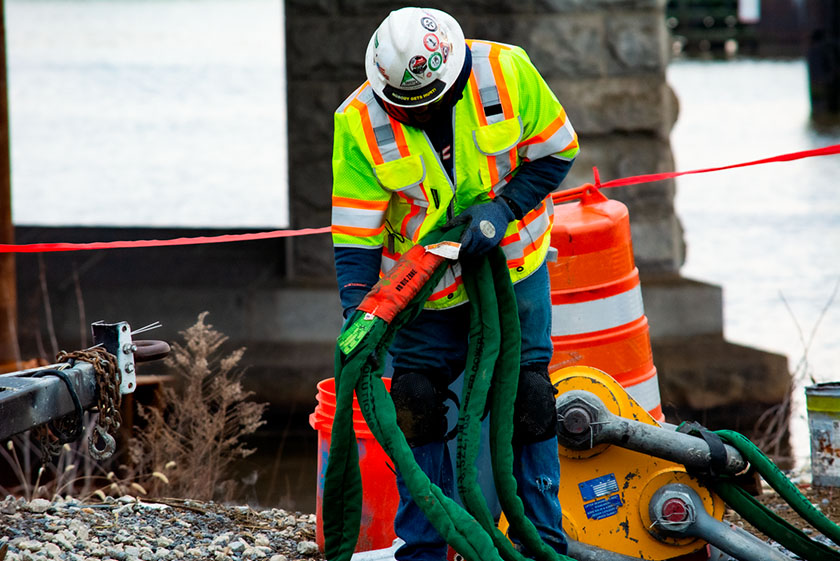 The Gateway to Washington D.C.
The Frederick Douglass Memorial Bridge, opened in January 1950 as the South Capitol Street Bridge, was among the first projects started after WWII and one of the longest swing bridges worldwide. In 1965, voters chose to rename the bridge for 19th century abolitionist leader and former slave Frederick Douglass.
The original bridge has been heavily trafficked for decades, carrying an estimated 70,000 vehicles each day. While repairs have been made over the years, including a $27 million renovation project in 2007, they have been unable to keep up with the rapid rate of deterioration. Its age and condition have left it functionally obsolete, with large corrosion holes in its structural beams necessitating a complete replacement.
Building a Reliable Crossing for Cars and Pedestrians
In August 2017, the District Department of Transportation (DDOT) chose design-build contractor South Capitol Bridgebuilders to construct the new bridge and accompanying site development. South Capitol Bridgebuilders is a joint venture between Walsh Group-owned Archer Western Construction, Granite Construction, and infrastructure design firm AECOM.
The new, modern bridge is being built parallel to the old one, just twenty feet away. So far, crews have built the abutments and begun erecting the steel arches in sections. With the arches in place, they will begin work on the new road and traffic ovals connecting the bridge to existing roadways. The original bridge will be demolished after the new structure is complete.
By keeping most of the construction over the river, South Capitol Bridgebuilders can limit the impact on existing traffic. However, building over water beside a critical transportation corridor brings many unique challenges to the project.
"We're working over and around water, near existing bridges and traffic, in an extremely congested area," adds Byron Dunnehoo, Senior Safety Crane Trainer and Inspector at The Walsh Group. "There are several sports stadiums nearby, police and ambulance helicopter air traffic overhead, and that's not to mention the extreme heights and extreme weights that we're dealing with."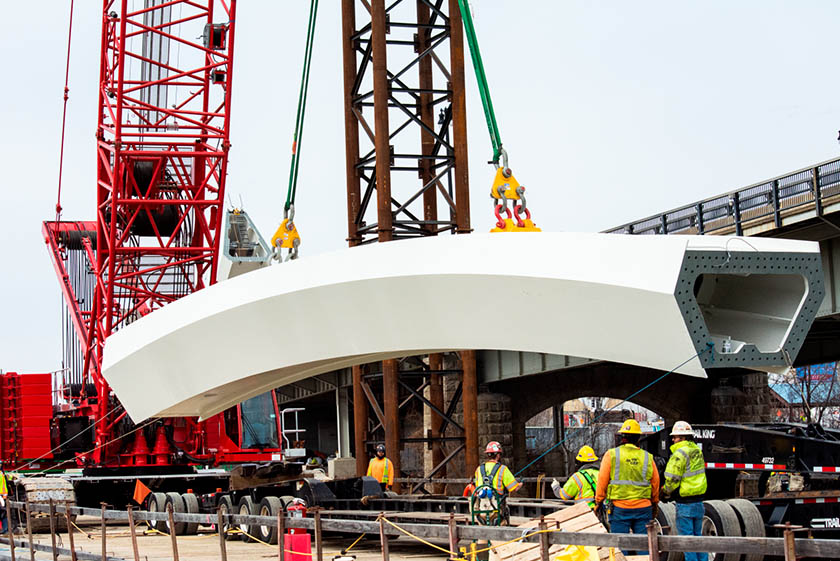 Installing the Arches: Maximizing Precision and Safety
The 168 foot-tall steel arches adorning the new Frederick Douglass Memorial Bridge are composed of multiple pieces that are each up to 50 feet long and 11 feet high. Sections weigh approximately 180,000 pounds and must be held exactly in place while bolted connections are made at challenging heights. The six-sided arches vary in width, growing wider in the middle and more narrow at the peak and where they meet the abutments.
Project managers, engineers, and crew members have gone to great lengths to ensure the arches meet precisely over hundreds of feet. And they proactively sought out ways to ensure the safety of workers and the public while doing so.
"When you lift extremely heavy, big arches," explains Dunnehoo, "Sometimes they can shift. And with that arch shape, it could end up putting more load on one sling than another."
This type of load imbalance can be particularly difficult to detect because one or more individual slings may be overloaded while the total load remains below the capacity of the crane. For this reason, Jose Cortez, Senior Safety Manager of South Capitol Bridgebuilders, looked for a way to actively monitor how loads are shared between multiple slings or legs of a sling.
Protecting Workers' Lives with New Technology
Cortez' forward thinking led him to Smart Sling® Technology, an electronic overload monitor developed by Slingmax® Rigging Solutions and manufactured and sold by I&I Sling. Smart Sling continuously monitors each Twin-PathⓇ sling for severe overload. If an overload occurs, the system issues real-time alerts to users on and off the job site via email, text message, and visual notifications on the accompanying Smart Sling software. Since the project builders have long used and trusted Twin-Path slings, it made sense to consider the rigging manufacturer's new device. Still, Cortez did not make the decision lightly.
"We want to make sure there is no failure," says Cortez. "When I bring any new product to the job site, I don't do it to see what happens. I make sure that it's going to work or I won't put my people in a position where something catastrophic can happen."
Twin-Path slings are already the most tested and inspectable rigging available, but Cortez believed the digital, real-time nature of Smart Sling added another layer of security and peace of mind. Smart Sling monitors the load on up to 50 individual slings from one screen. In addition, the device keeps a data record so that if an overload occurs, project managers can pinpoint when it happened.
Dunehoo notes that the project team is pleased with the benefits of Smart Sling, including how it has encouraged everyone involved to plan each lift more carefully. Additionally, rigging team members have gained confidence in their work because they have not received an overload alert for the entire duration of the project. If a mistake were to be made, Smart Sling will instantly send an alert after detecting an overload.
"Smart Sling has been a huge help," echoes Hannah Gaudet, Project Engineer for South Capitol Bridgebuilders. "These are very critical picks, so having that safety net to figure out if we overload puts us at ease."
Spreading Best Practices Throughout the Industry
South Capitol Bridgebuilders strives to remain at the forefront of safety innovations for the construction industry, and they are setting new standards. Since adopting Smart Sling® Technology in early 2020, foremen, supervisors, and crewmen of the arch installation have reported greater peace of mind.
"We didn't choose Smart Sling to be in compliance with the law," says Cortez. "We did it to use the best practices available to make our people safe."
Based on the success of Smart Sling at the Washington DC project, word is already beginning to spread within the joint companies of South Capitol Bridgebuilders. Later this year, there are plans to expand its use to other major projects throughout the US.